3 Awesome Minecraft Structures for Your Server
What's the most in demand resource server owners compete for?
Talented builders!
Making Your Minecraft Server Stand Out
Every server owner wants their server to stand out, or have something special. But the truth is, out of millions of Minecraft players only a handful few is skilled to make something so epic. Fortunately, these individuals are not as greedy as you thought them to be – they are actually quite generous if I say so myself. So here we have 5 awesome creations that you can publicly use and place inside your server. These structures are available via MCEdit schematics so the process of putting it on your server is a little tricky: first you'll have to download your world and the chosen schematic, load and edit your world via MCEdit, place the schematic inside, hit save, re-upload your world, and tadah!
Note that we neither own nor had created these structures, we are merely promoting them and sharing them to the greater MC community, but don't forget to give credit to the builders! Now on with our list!
The Eiffel Tower
First on the list we have the iconic lattice tower of Paris, our very own Eiffel Tower. Created by MorpheusMine, this huge structure features countless blocks that are accurately scaled into Minecraft to display the model and pattern of the famous tower.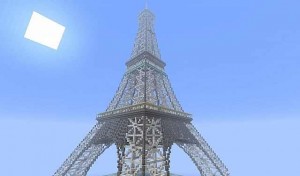 The structure was scaled down to fit in Minecraft's sky limit when placed on the Minecraft's standard surface level. This Minecraft Eiffel tower also has a detailed pathway located right under it with Redstone ready lifts. In fact the entire structure has Redstone ready lifts located on each level for convenience. So what can you do with it? Simple! Make it as the tourist attraction of your server or complete your very own city of love. The MCEdit schematic is available for download from Planet Minecraft. The structure download was made available by MorpheusMine himself so feel free to add it on your world and server, just be sure to give credits.
Berlin's Reichstag Building
The next structure we're about to show you is one made by EndrioFelipe and it's the recreation of Berlin's historical edifice – The Reichstag building. Constructed back on 1890, the Reichstag building was badly damaged, closed, re-opened, and was later closed again by the year 1933. Fortunately, it's now 2013 and we can still experience its beauty through Minecraft!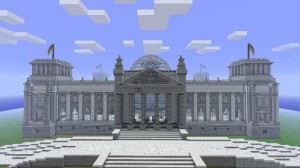 This particular Minecraft Reichstag features a well-scaled build with detailed structure which includes flags, glass roofs, columns, a grand entrance, and even an accurate glass dome. The builder EndrioFelipe not only opened its MCEdit Schematics on public, he also shared the entire world save for download. Although don't expect too much in the world save. Interested in exploring the old Berlin? Check out his entry on Planet Minecraft to download your own copy.
Hanging Gardens of Babylon
If there are things you would like to see in Minecraft what would that be? Well my friend, my answer is none other than the great wonders of the world. In fact, that's our third entry! The Hanging Gardens of Babylon!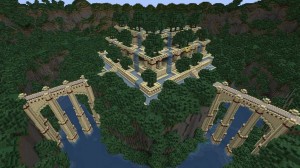 Created by (or should I say re-imagined by) McBreakdown, The Hanging Gardens of Babylon is one of the Seven Wonders of the Ancient World. Now this is a tricky creation, for no one really knows what it looks like anymore or even where it can be found, but despite the lack of information, McBreakdown re-created this wonder quite magnificently and closely to the portrayed structure. The garden expands over a hundred blocks and is filled with trees as well as re-imagined Babylonian architecture and creative waterfall and staircase water irrigation. Mostly built out of sandstone, this timeless structure is available for download via MCEdit. Don't forget to give credit to the builder!
Build Your Own Epic Creation with EnviousHost
No matter what you hope to build to make your mark on Minecraftia, EnviousHost's powerful Minecraft servers can support you every step of the way. S
hare your experience with the world by inviting friends and #OwnYourWorld with EnviousHost!