One of the coolest things about Minecraft is that people can get creative with it – very creative. Once a person is comfortable with the basics of the game, mods and plugins can be installed. These mods and plugins make it possible to build and craft just about anything imaginable. When we say anything, we mean anything
Over the years we have seen some amazing creations. Some of these projects look like they took years to build. None the less, someone spent the time thinking about and artfully crafting these pieces. We salute these people! And we'd love to showcase some of the most epic creations we've ever seen in all of Minecraftia.
Without further ado, here are 5 creations that blew our minds. We know you'll love them!
Fully Functional Word Processor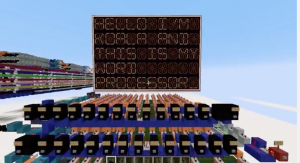 A user by the name of Koala, has spent years working on a fully functional word processor within Minecraft! This word processor can open files from memory, and has a fully functional keyboard. He says he's still working on a few things to make it even better.
Click the image above to view the YouTube video that showcases the word processor. This is great – now you can play Minecraft and do your English homework at the same time!
iPhone 4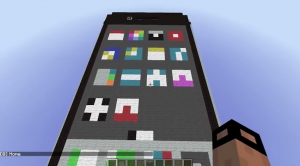 A user by the name of Shuffle created a semi-functional iPhone 4. It's insanely cool! There is even a "slide to unlock" feature. He has set the phone up with many functionalities. Click on the photo above to watch the video on YouTube and see just how much this iPhone can do.
Apple Headquarters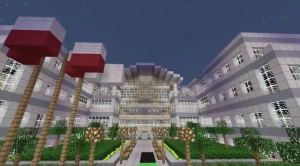 A player by the name of Michael Steeber spent 2 years building a complete replica of Apple's headquarters. That's right -Apple.  This is amazing! As far as the eye can see, he did not miss a detail. Click on the image above to view the full video on YouTube. You will not be disappointed in the slightest.
The City Of Adamantis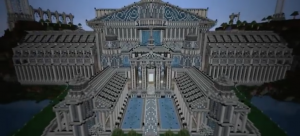 A user named Jam Delaney has built an amazing city called Adamantis. This fictional city will blow your mind. What's even crazier is the fact that he built this in around 3 months. Click the image above to watch the full video on YouTube. We were amazed at the attention to detail, and we guarantee you will be too.
A Playable Guitar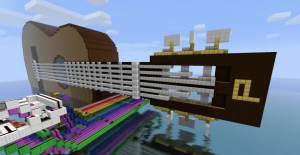 A player named Disco created a guitar that can actually be played. It truly is one of the coolest creations in all of Minecraftia. Click the image above to watch the full video and learn more.
What Are You Building?
Minecraft is full of possibilities. That's the coolest thing about the game! If you can imagine something, you can build it.
So what have you been building lately? Post it in the comments. Who knows – maybe your next amazing creation will make it into one of these articles someday.