This Minecraft replica of Vienna is both stunning and insane.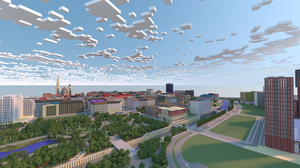 Image by MCVienna
If you have ever been to the beautiful Austrian capital of Vienna, you will have appreciated the humbling architecture at the Opera House, the tranquillity of the famous Blue Danube, and the pristine streets of one of Europe's most prestigious cities. If you haven't been to Vienna however, no sweat, neither have most people!
Luckily for you, one ambitious (and frankly insane) group of Minecrafters is recreating the entire city centre of Vienna, and they're doing it to scale. The amount of patience and attention to detail required to perform a feat of this magnitude is unimaginable, but luckily we can enjoy the Vienna Minecraft map for the spectacle it is.
Seeing the sites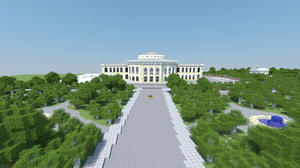 Image by MCVienna
You may recognize the building in picture above as the Burgtheater — The Royal Theatre. Or, perhaps you recognize the image below as the Stephandsom. This is because all of Vienna's most iconic landmarks are included in this incredible map.
You can row a boat down the Danube, one of Europe's most celebrated rivers that bisects Vienna, or you can get lost inside the huge Stadtpark. It's your virtual vactation, so you can do whatever you like with your time.
Scientific approach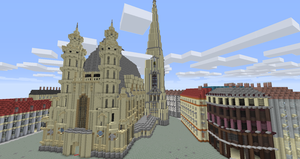 Image by MCVienna
While many of us may have recreated our house or even our home town in Minecraft for fun, those on the MCVienna team are making use of satellite recordings and maps to ensure their to scale replica of Vienna is scientifically accurate.
They aim to make the city an immersive experience that feels as close to being in Vienna as you possibly can, while still sitting at your computer desk in your bath robe.
Capturing and enhancing the beauty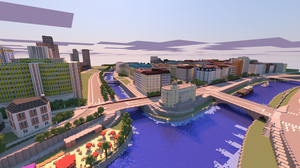 Image by MCVienna
As ambitious and as detailed as the build may be, it's fair to say there's only so far that you can take Minecraft with the standard texture pack. You can do those expertly constructed buildings and the glorious winding Danube a lot more justice if you were to use a custom texture pack.
Sildur's Shaders will add a vibrancy and level of detail that the vanilla Minecraft textures don't even compare to. Along with a sense of realism, this texture pack boasts improved shadows, volumetric lighting, bloom and water reflections. Exploring this virtual Vienna will now be more realistic than ever.
See the mighty impressive map for yourself at build.mcvienna.at. Unfortunately the map is currently in the process of being migrated to Minecraft 1.11.2, but it's expected to be available for public exploring soon! In the mean time, you can follow the team's efforts on Reddit.