It's that awesome time of the year again to wear costumes and ask for free candies.
And that spirit of things has just arrived in the blocky world of Minecraftia!
Check out the awesome things you can do in Minecraft this Halloween!
Minecraft: Pocket Edition – Halloween Update
Mojang added 15 Halloween themed skins in total that costs only $0.99! The added skins are:
Cow costume
Creeper costume
Ghast costume
Iron Golem costume
Mooshroom costume
Ocelot costume
Pig costume
Pink Sheep costume
Rainbow Sheep costume
Skeleton costume
Snow Golem costume
Spider costume, and
Zombie costume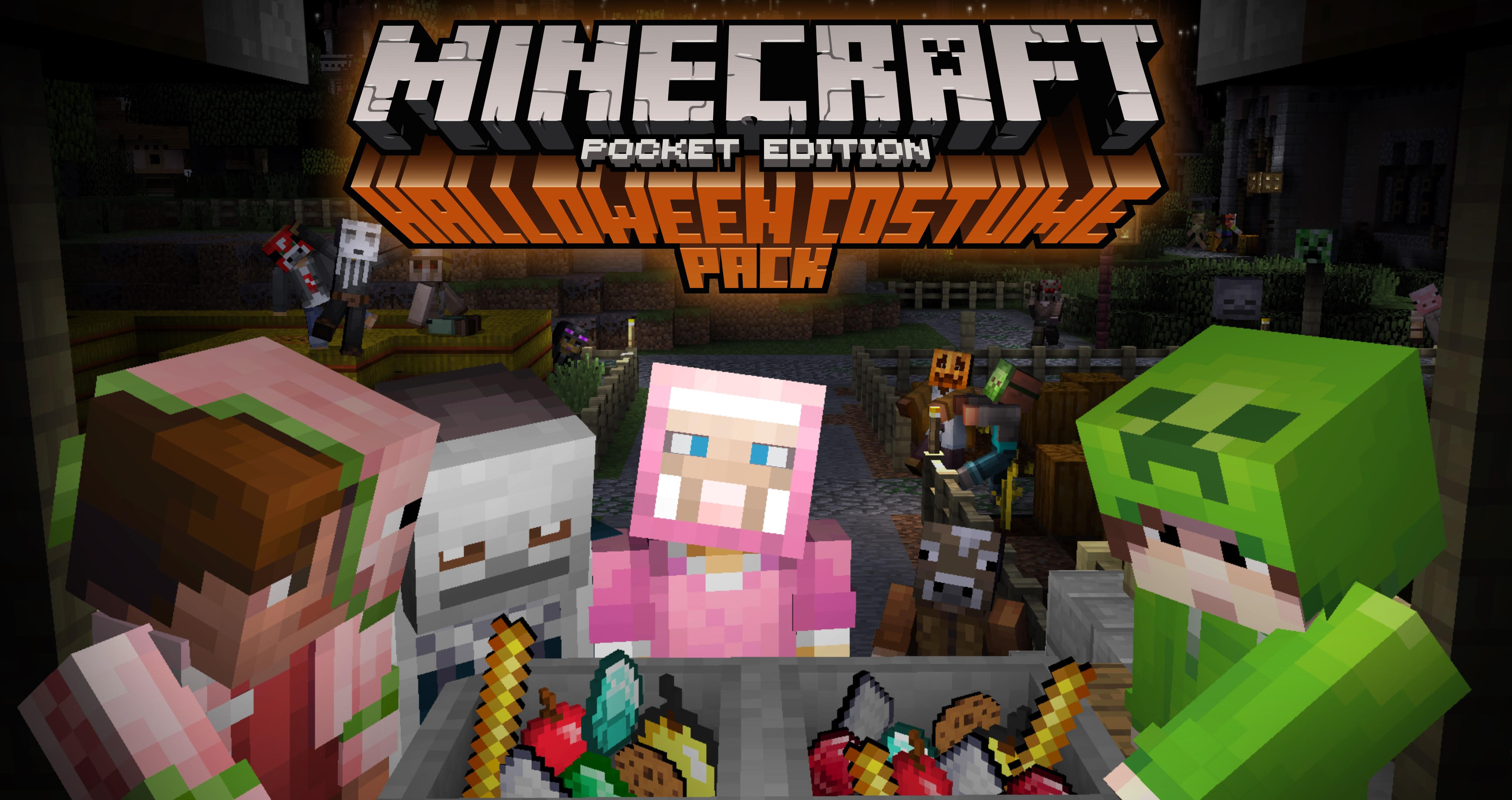 And if you don't want to open your wallets this Halloween, then don't worry as you'll still get the Iron Golem and the Zombie costumes for free!
Aside from the Halloween changes, the MCPE update also added a lot of new features including visible first person crouching animation, a lot of bugfixes, a lot of controller and D-pad optimization, iPhone 6+ optimization, and a whole lot more.
Minecraft Console – Halloween Mashup Pack
An entire mash-up pack dedicated to Halloween has been created by the good folks at 4J.
This pack contains a whopping 43 new skins, an eerie texture, and some creepy ghostly music that will transform your world!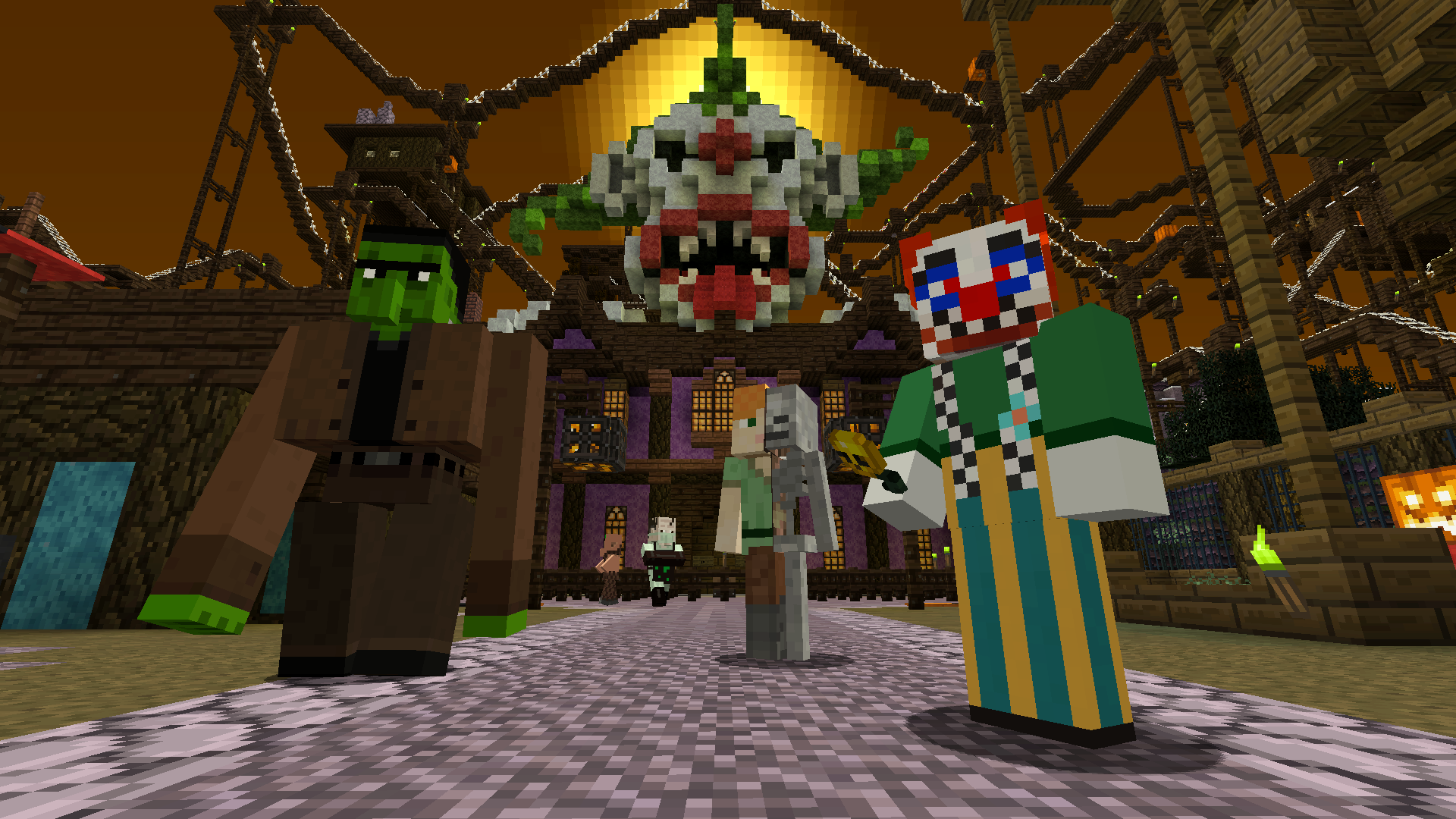 The pack also features a rollercoaster that you and your friends can ride together.
This Halloween pack is available on all consoles (starting Friday, October 23) and costs only $3.99.
Some of the available new skins offered are:
Grim Reaper
Bride of Frankenstein
Wicked Witch
Tree Face
Mad Doctor
Swamp Monster
Dr. Jekyll
Mr. Hyde
and a lot more!
Some skins are also available for free, so be sure to check the shop!
Minecraft 1.9 Update
Not entirely related to Halloween, but Minecraft 1.9 is likely to come this November with a series of new features to look forward to including a revamped Ender Dragon fight, pre-generated cities and portals, dual wielding, shields, revamped boats (going to be similar to MC: PE), wings(!!!), several new enchantments like frost walking, mob AI improvement, combat improvement, a whole lot of building blocks, levitation and other status effects, and so much more!
Although it is not entirely "related" to Halloween, wings will be something to look forward to! The new wings item will allow players to fly/ glide through the air with style while looking spectacularly cool.
Creepy Community Creations
Of course the Minecraft community isn't something that will let this Holiday come to pass quietly. As a result, a lot Halloween themed horror maps and resource pack have been popping out, including those with terrifying music packs.
The Digital Nightmare Music Pack 
Features post apocalyptic sound track created by NeptuneUK and some fillers by TeknoAXE. This resource pack replaces the music of the vanilla and doesn't alter any texture, so you can freely using along with other resource pack of your choice.
Is a Vanilla horror/ thriller map with a scary winter theme. In this map, you'll play as a young girl who decided to stay home alone during the winter holiday.
When it's late a night, you hear some glass shattering, and discovered that the electricity is out. Now all you need to do is try to turn the lights back on.
Lights Out is a nice thriller map that lingers around the fear of being left all alone in the dark.
Is a horror map filled with scares, creepyness, and shocking/ gruesome imagery created by username REMO.
Probably one of the scariest maps ever made in the history of Minecraft, The Orphanage features a scary ambiance, realistic texture, an intriguing story and lots of jump scares.
Due to the popularity of this map, it has several versions translated into 3 other languages: Dutch, Turkish, and Chinese.
If you want to be scared this Halloween, put this map in your to-do-list!
Trick or Treat!
Go trick or treating with your friends or have them over to your server!
Transform your server into a Halloween Haven this November and invite your friends from across the globe! EnviousHost features affordable, powerful, lag free, and hassle free hosting services at a reasonable rate.
So what are you waiting for? Create your own server and play with your friends this holiday!