October 13, 2015 was the day Telltale Games boldly released a story mode version of the game that doesn't have any stories to begin with – Minecraft.
Fans of the open world sandbox experience might be disappointed that Minecraft: Story Mode doesn't contain any of the gameplay elements that the beloved game has. So the question is, as a Minecraft fan, is it worth playing?
Just like any video animations and Minecraft stories you see on Youtube, Minecraft: Story Mode has an all new different story line and characters with elements from the game. However, the similarity between the original game and Story Mode ends there.
Minecraft: Story Mode is a whole new game and should be treated as such.
So stop comparing it to Minecraft already!
Story-Driven Gameplay
Minecraft: Story Mode is a point and click, story driven adventure and shares similar gameplay to other TellTale Games.
Story Mode is divided into 5 episodes with the other episodes coming this 2016.
You will be playing as Jesse (a customizable character, more on that later) and you will be interacting with the world, talking to NPCs, and making decisions as you progress in the family-friendly plot.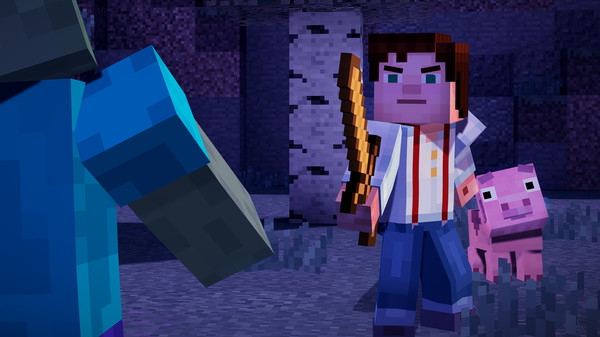 Although TellTale Games is known for their drama and thriller stories, MC:SM is filled with comedic scenes with a hint of drama here and there.
And just like any other TellTale Games, your decisions will make a lasting impact in the current and later episodes.
The Characters
The main character is you, and your name is Jesse. That's a unisex name right?
That's because you get to choose Jesse's gender and appearance at the start of the game.
If you want to be a cool looking boy then so be it, if you want to be jazzy girl then no one is stopping you.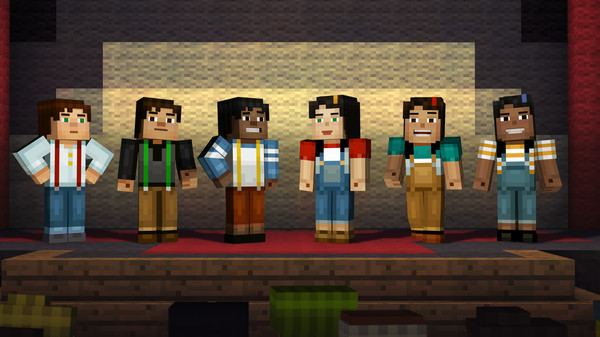 Other characters of the game resemble minecraft player stereotypes; like greifers, PvP players, etc. Character building is a bit weak, but forgivable for being a kid-friendly game.
Story Progression
The plot itself is very interesting and the story is immersive, however if you have played other Telltale Games like "The Walking Dead", "The Wolf Among Us" or "Game of Thrones", then you might be disappointed.
The game is filled with Minecraft references but the story progression is a bit lacking, especially if you compare it to other popular Telltale Games.
The first 30 minutes of gameplay is not that engaging and is filled with weak character building – we can tell because we have played a lot of Telltale Games and have expected a lot on a game coming from them.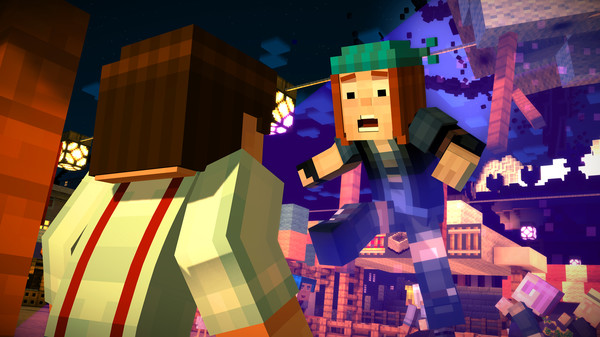 However, if you look at it on a different angle, the game is set on a pretty nice pace, enough for tweens to understand and enjoy. As a kid-friendly game and in comparison to other games designed for kids, Minecraft: Story Mode is a really nice game with characters and setting based on the already popular world of Minecraft.
Final Verdict
As compared to other TellTale Games with heavy emphasis on drama, thriller and plot twists, Minecraft: Story Mode comes off as mediocre and even kind of lame for a TellTale Game standard. But, this is entirely because it is meant to be for the younger audiences.
Why would you show vengeance, deceitfulness, and other bad characteristics to your 12 year old kid right?
And as I said earlier, the game cannot be compared to Minecraft as it only uses its elements but the gameplay is entirely different.
So is it worth playing?
The answer to that, my friend, is still yes.
Fans of Minecraft, especially the ones under the ideal age bracket, will enjoy the jokes and the story of the game. And if you love watching Minecraft videos on the internet and just immerse yourself in the Minecraft lore then you have no reason not to get this game!
TL;DR
The game is meant for kids, and should be played by kids.
Get this game if you have a kid (specifically a tween or younger) who loves Minecraft, or if you live and breathe the original game and want a nice change of pace.
Create your Own Adventure
Why not create your own adventure in the real Minecraft game? Add mods and play with your friends to re-live the Story Mode.
EnviousHost features top of the line hardware and state of the art software to deliver powerful and lag-free servers.
So what are you waiting for? Gather your friends and start your own story today!