Happy Halloween!  It's that time of year again to dress up in costumes as things like zombies, ghosts, witches, and creepy clowns (be careful, guys).   It's time for candy and trick-or-treating, spooky decorations, and….Minecraft's Halloween Mod! This mod has great features that are fun and even a bit creepy. There are even pumpkin carving features and candy! Any fan of Halloween and Minecraft is sure to love this mod.
Halloween Mod Features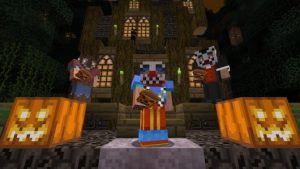 This mod has a lot of fun, spooky features that you are sure to love. From creepers who are filled with candy to scary witches in hats that can do some serious damage, this game is thrilling! Some of the Halloween mod features include:
Pumpkins
Candy
Curses
Vampire, Ghost or Mummy Suit
Tombs
Creepers
A cemetery
Zombie Hands
Monsters
Cobwebs
Halloween Mod Installation For Minecraft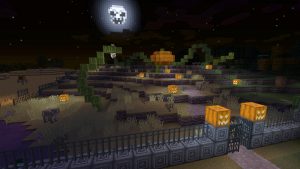 Step 1: Be sure to install Minecraft Forge. If you haven't, try this link.
Step 2: Buy the mod from Minecraft and download it.
Step 3: Open your Minecraft application folder, and place the mod into it.
Step 4: Finally, launch Minecraft. You should see the Halloween Mod with your other mods. Click it, and go play!
Keep in mind that there are always new updates coming out for Minecraft. Be sure to update your system often to avoid glitches and out of date material. Hope you have lots of fun with your new Halloween Mod!
A few quick tips about playing on the Halloween Mod:
Tip 1: A Halloween Pumpkin Pet
Who wouldn't love to have a cute pumpkin pet? In order to get a pumpkin pet on the Halloween mod you need a luminous candle and pumpkin that can spawn the craft egg. The Halloween mod let's you name him whatever you like. After that, you can give your pet commands to follow you if you feed your pet pumpkin pies.
Tip 2: Candy Bowls

When you find a candy bowl in the game, tap on it. Typically it will give you various items. Also, if you have a pumpkin pet with you, it may give money.
Tip 3: Halloween Creepers
Creepers are orange creatures 3 blocks high. You can not kill a creeper on your own with a mortal weapon. You have to wait until they explode on their own. When they explode, they drop candy for you to collect.
Tip 4: Candies
We all understand how food works in Minecraft. Candies are a special type of food that you can eat anytime, even if your food level is full. Most candies will restore hunger points. A few will do other things, such as a gummy skull candy which can be used to breed wolves.
Tip 5: Roasted Pumpkin Seeds
Roasted pumpkin seeds will actually lure Mecha pumpkins. Cook pumpkin seeds to make them roasted.
There is so much you can do in this mod! So, go ahead and have a little fun this Halloween. Go witch hunting, fight creepers, and collect candy all while sitting in the comfort of your home. You won't be disappointed with this mod.