Mod Pack of The Month: The Sky Factory
Another month is here, and we're excited to share another awesome mod pack. Known for its famously difficult gameplay, our March mod pack of the month is Sky-Factory!
About Sky Factory
If you love playing maps with skyblock, then you'll feel right at home with this mod pack. Sky Factory is likeskyblock in steroids! With that in mind, you probably know already what starting this mod is like – with you in a void. With nothing but only a single tree and a dirt block, your goal is to survive and prosper in a weird, weird world. Hosting a server and starting with your friends is one way to make the game even more challenging. No matter how many players you add,  you still only have a few blocks to stand on – not to mention that you start with no food. Many people recommend that you establish a more spacious platform before inviting friends over.
Of course no one can truly "conquer" a skyblock challenge, but if you want bragging rights you can complete the list of challenges built right inside the mod. Just a warning – they may be doable, but they are extremely difficult!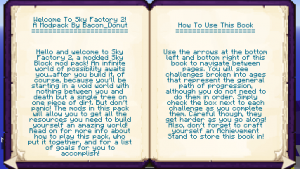 Mod Pack Content
Although the Sky Factory mod pack starts as a pretty hard skyblock survival map, it does feature certain mods that will help you out. To start, you have to use items from the mod Ex Nihilo to get yourself some food and expand your area. As you probably know, Ex Nihilo was created specifically to make skyblock maps more survival-friendly – especially in dire situations. Sky Factory also features survival aiding mods such as a tree growing simulator which allows the player to speed up sapling growth process by dancing! Ok, it's actually sprinting, jumping and sneaking, but when done the right way, it looks like quite a jig!
Aesthetic mods for multiplayer gameplay are also added. These include emotes, hats, morpheus, and a few more – but most of them are optional. Mods that add transportation, utility, and convenience can also be included to make things a little easier.  To add icing to the cake, this mod pack comes with its own resource pack to complete the experience. Once you learn your way around the tiny world you created, this mod also stretches gameplay by adding content heavy mods like thermal expansion, tinkerer's construct, computer craft, applied energetics, mine factory reloaded, and lots of other mods that promote automation. That's actually where the name "Sky Factory" comes from!
Mods Installed
Aside from the prerequisite core mods, this pack includes:
Sky Factory Resource Pack
It's Raining Food
Plugin Messages
Moo Fluids
Auto Packager
Lucky Blocks
3D Furnace
ArmorStatusHUD
Damage Indicators
Starting Inventory
Applied Energetics 2
Auto-food
Better Title Screen
BiblioCraft
Carpenter's blocks
Chisel 2
Chicken core
Computer Craft
Dragon mounts
Ender IO
Ender storage
Ender tech
Ender utilities
Extra cells
Extra utilities
Food plus
Greg's lighting
Hatstand
Headcrumbs
Inventory tweaks
Iron chest
JABBA
Liquid XP
Loot bags
Magical crops
Mine factory reloaded
Natura
NEI (Not Enough Items + Addons)
Open blocks
Redstone arsenal
Xeno's Reliquary
Simple achievemments
Simply jetpacks
Slab craft
Sola flux
Staircraft
Sync
Tabularasa
Tinker's construct
Thermal expansion
Tree growing simulator
Utility mobs – defense mobs and turrets
WAILA (What Am I Looking At? + Addons)
Y U NO make good map
Crafting manager
and more!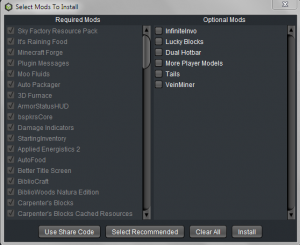 About the Optional Mods
Before creating a new instance of Sky Factory, you will be prompted to choose which optional mods to install. These mods don't necessarily affect gameplay but it is important to remember that some server may require certain optional mods. Mismatched mods can create issues that keep you from getting approved to join a server.
InfiniteInvo – This mod adds more inventory slots to players, but the player must buy them using his XP levels. And as the name implies, you can have an infinite number of inventory slots (unless you ran out of Java memory), but you must make sure you consult the server you want to join before using this optional mod
Dual Hotbar – This is a utility mod that allows players to have up to four hot bars with shortcut keys. This can be used by anyone even if the server doesn't have this mod.
LuckyBlocks –  This mod adds one block with unlimited surprises waiting inside. Your server must have this mod installed in or else you won't be able to see one in the game.
More Player Models – This mod allows any player to change their avatar model into something out of this world. If you want to become something a little strange then this is the mod for you! Players who don't have this mod installed will only see you on the regular Steve model.
Tails – If you're getting any More Player Models then there is no reason to not get this one. This mod adds tails and fox-like ears to your player. It is also highly customizable.
VeinMiner – This convenient utility mod breaks all blocks that are the same ones linked together. You might want to get some practice with this mod out so you don't accidentally mine your way down into the void.
How To Install The Sky Factory (aka Sky Factory 2)
To install this mod pack, you must first download and install its launcher:
1.  Go to the download page on the ATLauncher official website.
2.  Scroll down until you find the launcher that is compatible with your operating system and download the appropriate version.
3.  Once you've downloaded the launcher, move it into a separate folder and launch the file. The launcher will download the necessary library files and once this is complete the ATLauncher will open.
4.  Press the second tab with the name "Packs" and find Sky Factory.
5.  Press the button "New Instance" to create a client and download all the necessary files.
6.  Choose what optional mods to install. Proceed with the installation to get your own Sky Factory client.
Experiencing "Not Enough Memory" Problem on Your Client?
If you are experiencing the "not enough memory" problem on your client when loading a world in single player mode, make sure to use the recommended java version of the ATLauncher. ATLauncher recommends using JRE7 when using any of its mod packs, but you can play using any other versions nonetheless. Experiencing the "not enough memory" problem on your client is the only potential drawback.
EnviousHost's MOTM Server
And since February has come and gone, EnviousHost is now hosting a trial server for the entire month March where we will feature our Mod Pack of the Month. If you want to join this month's MOTM, install The MadPack via ATLauncher and log in to motm.envioushost.com to join the others as they try to survive and create a factory in the middle of the sky.