We're excited to announce that our Mod Pack of the Month is the MadPack 2! Since February means Valentine's Day, we wanted to make sure to feature something everyone loves – a fantastic modpack chock full of sick mods!
About The MadPack 2
Unlike any other mod pack, ATLauncher's The MadPack 2 wants you dead. In fact, it wants you dead so bad that it actually counts how many times you die! Even though you don't start on hardcore mode, this pack's difficulty adapts to the player's skill level and time spent playing. As a result, the game gets tougher the more you play. Quests will also become more challenging – going from relatively easy to totally unforgiving.
Although The MadPack 2 is designed to be played in hardcore mode, you can still play it in any mode. Just keep in mind that some rewards and feature will only appear if you play hardcore. But don't worry, there's nothing to lose. Playing hardcore doesn't literally mean that your world will be deleted…or does it?
This mod pack is available for Minecraft version 1.7.10 and so it features many improvements but it does lack the new banners and skin changes found on 1.8.
Mod Pack ContentsArtifacts mod image by Draco18s
The aim of this pack is to make it harder for a player to survive, but it is also aimed to make the player prosper through the means of technology and automation. With that in mind, this mod features hundreds of mods with different goals in mind. This mod pack has carpentry blocks, applied energistics, bibliocraft, buildcraft, chisel and many other tools focused on player building, empowerment, and improvement. At the same time it features a hardcore questing mod, artifacts and a ruins mod designed to encourage exploration.
The mod also adds Lycanite's Doom-based mobs which are both creepy and difficult to kill. You'll also encounter the Deadly World mod that adds randomly generated things like lava pits, land mines, spawner veins and boss mobs to spawn.
In addition, the mod also adds Growthcraft mods, Extrautilities and other mods that will aid the player in surviving. Descriptive UI's are also placed for armors, weapons and tools as well as a descriptive tooltip for the items and blocks you point your cursor to.
Mods InstalledEnder Storage mod image by chicken_bones
Aside from the prerequisite mods like Forge and other core mods, this pack includes:
Artifacts
Air Overhaul
Apocalypse
BattleTowers
BiblioCraft
BuildCraft
Carpenter's Blocks
Damage Indicators
Deadly World
DungeonPack
ChickenCore
Chisel
EnderStorage
Dimensional Anchors
Enderio
Extrautilities
FastCraft
Factorization
GrowthCraft
Hardcore Ender Expansion
Headcrumbs
Hungeroverhaul
HQM
IndustrialCraft 2
Inventory Tweaks
InfernalMobs
IronChest
Lucky_Block
Lycanites Mobs
MagicalCrops
MineTweaker
MineFactory Reloated
Mekanism
MobProperties
NEI (Not Enough Items)
NetherOres
Opis
OpenBlocks
HarvestCraft
PandorasBox
ProjectE-Alpha
PlanterHelper
QuarryPlus
Realistic Pain
Xeno's Reliquary
Random Things
Redstone Arsenal
Roguelike Dungeons Mod
Ruins
Stackie
Smallboats
Soul Shards Reborn
SubMod (Optional)
Special AI
Special Mobs
Tinker's Constrct
Trollore
TooMuchRain
Tinker's Mechworks
The Twilight Forest
Thermal Expansion
ThermalFoundation
Vein Miner
Waila
Witchery
About the Optional Mod
The only optional mod available in this mod pack is called "submod". You can find out more about this list of mods on MinecraftForum.net.
EnviousHost's MOTM Server
Just like last month, EnviousHost will host a server for all of February to feature the Modpack of the Month. If you want to join this month's MOTM, install The MadPack via ATLauncher and log in to motm.envioushost.com to join the others as they try to survive one harsh world.
How To Install The Madpack 2
To install this mod pack, you must first download and install its launcher.
1.  Go to the download page of the ATLauncher official website.
2.  Scroll down until you find the launcher that is compatible with your operating system and download the appropriate version.
3.  Once you've downloaded the launcher, move it to a separate folder and launch the file. The launcher will download the necessary library files and once this is complete the ATLauncher will open.
4.  Press the second tab with the name "Packs" and find The Madpack 2. Press the button "New Instance" to create a client and download all the necessary files.
5.  Choose what optional mods to install (currently there is only one). Proceed with the installation to get your own The Madpack 2.
Additional Requisites
Unlike some mod packs, The Madpack 2 requires additional changes before you can start playing. The mod pack requires a PermGen Size of 512 which is double to what Minecraft is currently set by default.
To easily change this setting, go to your ATLauncher and choose "Settings" on the right side bar. You will be redirected to a new screen with multiple tabs. Choose the "Java/Minecraft" tab on the upper left corner of the window. See Below: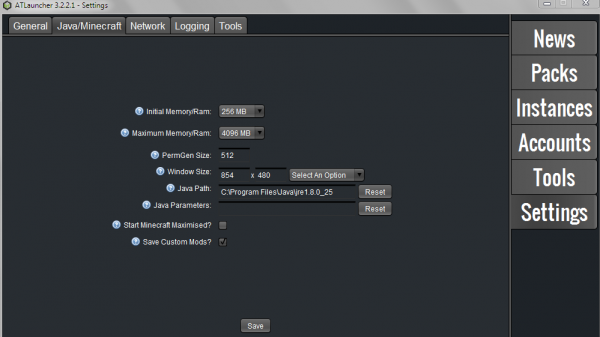 Find the line "PermGen Size:" and beside it replace the amount to 512. Hit save to finish the setting.
Now that you're an expert on The MadPack 2, try the game for yourself and experience a hardcore world that's out to get you and your friends. #GameOn!