EnviousHost's Top 5 Minecraft Christmas Resource Packs
Celebrate the holiday season with your friends around the globe using your very own server! Experience an affordable, lag-free game where ever you may be. Exchange gifts with your friends and hunt down Santa. Share wonderful memories this Christmas! Let an EnviousHost server be the bridge that connects you with your friends and loved ones this holiday season.

On the top of our list is the crowd's favorite Christmas version of Sphax Pure BDcraft called XmasBDcraft. This resource pack features various new 3D models and textures that are themed specially for the holiday. Doors, trees, plants, and a few other things are decorated with Christmas ornaments, while some other things like chests, and TNT are converted into presents. In addition to all of this, XmasBDcraft also features customized music discs, and gifts in the form of toys, working TVs, laptops, desktops, chairs, tables, mini figures, and candies.  Once you take a look inside, you won't believe your eyes!
Since this resource pack is for 1.8, the new blocks and items have a high definition look with the holiday theme. The Xmas version of BDCraft really surpassed our expectations, and deserves to be on top of our list.
Created by C_is_Creative, Minecraft Christmas Overhaul is a 16x resource pack that transforms nearly every aspect of the game into a white Christmas. This texture pack is derived from Minecraft's default resources and completely changes the gamer's world to add Christmas surprises. With this texture pack there will be elves, abominable snowmen, Santa Clause, reindeer (including Rudolph), and many more Christmas themed goodies. This texture pack has its own plot baked in. The elves commit a mutiny and hide all the gifts in caves. It's up to the player to collect these gifts and save Christmas.
This resource pack is available for Minecraft 1.8, so all added features have been updated and re-textured as well. The only thing that has not been modified is the music. The author mentioned that an update will come near Christmas time, and it will include a special Christmas soundtrack.
Experience the spirit of Christmas in your Minecraft world with HerrSommer A Christmas Carol Resource Pack. HerrSommer was created by DerSommer. It's a high definition resource pack with a 64 x 64 resolution.  This resource pack is primarily focused on providing a merry holiday atmosphere. The resource pack is suited to those who would love to play in a world with a Christmas feel to it. The pack changes the caves into a ginger bread caverns and zombies are turned into gingerbread men. Endermen are also turned into teleporting Santa Clauses, while villagers look like normal people in Santa costumes.
Currently, this resource pack is only available for Minecraft version 1.7.10 but an update is expected soon.
Are you the type of person that loves realistic resource packs? Outdoorsy Realism Winter might be the right one for you this Christmas. Outdoorsy Realism is a high definition resource pack that was created by Pauls777. Its main focus is re-texturing Minecraft to make it more realistic. Available in both 32 x and 64 x resolutions, this resource pack also has its own winter version.
Unlike other resource packs on our list, this pack is not focused on the Christmas holiday but rather the winter season in general. With that in mind, this resource pack will cover almost everything with snow. If you plan on designing a Christmas world from scratch, this realistic resource pack for Minecraft 1.7.10 is perfect for you.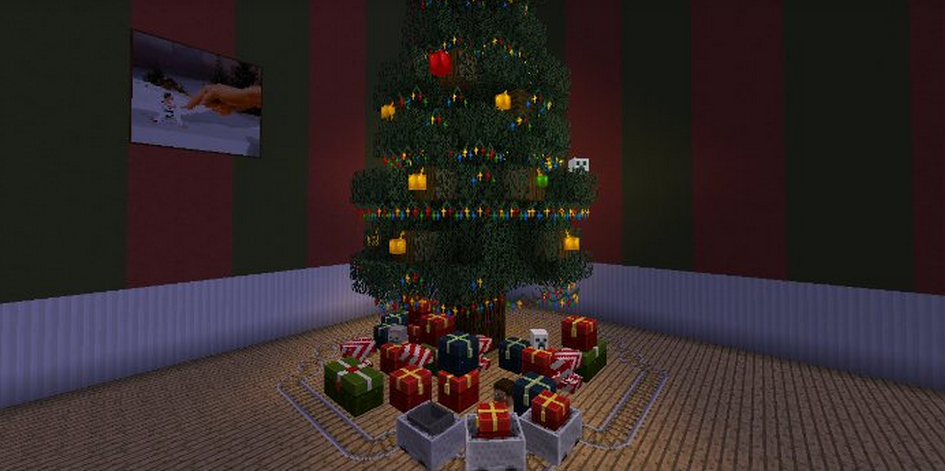 Last but not least, we have Futureazoo's Defaulted Christmas Resource Pack. This pack features festive 16x definition textures that are aimed at providing the default Minecraft texture with the festivities of the holiday seasons. Only the texture of a few blocks is changed, leaving the vanilla feel of the game intact. This resource pack features animated Christmas lights, decorated saplings, Christmas-themed paintings, and more.
Because the pack does not modify many aspects of the vanilla texture, it can be useful to almost anyone. Especially those who don't want to stray far away from the vanilla version of the game. Another plus, is that its 16x resolution will not require high definition patches. You can confidently play without any loss of performance.
Enjoy Your Holiday
These resource packs are the perfect way to bring Christmas joy to your world. Try one or try them all!