Photo Source: Media.MinecraftForum.net
Minecraft 1.8: Ending the Era of Blocks
You heard right – Everyone's favorite pixelated phenomenom is entering a new era. Will this era see the end of blocks as we know them?! Each version features something new, and lately these changes had been mind-racking and game breaking! Introducing… Minecraft rotation arguments! …Wait what?
To understand it more clearly, let's start from the beginning. Minecraft Snapshots, as we know it, are beta game versions that are released for testing purposes. They are similar to what we call a developer's version and will most likely contain the latest bug fixes and features that will later be available to the official versions. Now why am I telling you this? The Pre 1.8 Snapshots (Snapshot 14W03A and above) features the ability to rotate entities via command blocks. So what's the big deal you say? With advance Redstone knowledge, players can now make spheres, circles, and other non-blocky shapes inside the vanilla game! I told you it was "game breaking". Here's an example of how you can replicate this trick and what else you can do with it.
It's pretty amazing don't you think? By letting your imagination run wild, players can create almost anything!
What to Expect in Minecraft 1.8
Well the list isn't complete yet, but here are some changes that you can expect to a Minecraft 1.8 server:
Entity Rotation
If you're playing on a big server with tons of talented builders, then expect some of them to utilize the rotation arguments to create spheres, circles, rings, and curves. They might be able to recreate the globe, create "worm-like" dragons, ice cream on a cone (yum!), and many more.
Spectator Game Mode
No matter what server type you use, everyone will appreciate the new game mode that will be introduced in 1.8. The spectator game mode, as the name implies, will allow players to spectate without interfering to the environment. This game mode also allows players to watch other player's view and peek through their inventory by left clicking on them – you could even look through the eyes of your favorite mob! A game mode perfect for hunger game server types and death matches. It may also be used as a tool to detect hacking and griefing!
Barriers
The latest snapshot also gives players access to a new invisible and indestructible barrier block. These blocks can only be spawned in created (similar to the way you spawn a command block) and are great way to contain players and other entities in a specific spot – a very helpful addition to any server. So if you find yourself unable to proceed with an invisible block on your path, wonder no more.
Book Copying
Tired of passing the book of rules and regulations to your guild mates? Or do you want to bring home your friend's diary with you but he/she won't let you? Fret no more for Minecraft 1.8 introduces the new book copying mechanics *cough* photo copy machine *cough*. With it you can now mass produce your literary master piece and spread it to the land of Minecraft!
New Skin System
1.8 also introduces a new skin customization setup that allows players to use skins with two layers and customize them as they see fit. With this option, players can mix and match the base skin to the second layer making skins more detailed and personalized than ever. If you're confused on how it works or are interested in making one for yourself, here is a video tutorial from Docm77.
More Useful Redstone Contraptions
The next update isn't about Redstone, but when it comes to Redstones, some changes, no matter how little they are, will give a way to tons of new things and ideas. On Minecraft version 1.8, Item frames can now give off signal depending on the position of the item placed, buttons can now be placed on the bottom of the floor or at the roof, dispensers can now properly place skulls, mob heads, and pumpkins – allowing players to automate the spawning of golems, and more. So get ready for some serious puzzles and traps.
Not So Dumb Villagers
Whether playing on single player or online with friends, villagers will become more "valuable" than ever before. With the coming Minecraft 1.8 update, villagers will be able to do some useful and interactive actions such as harvesting fully grown crops and planting another seed in its place. Basically the villagers will be available to farm!
What to Expect in the Next Minecraft Pocket Edition Version
Of course, Minecraft Pocket Edition doesn't want to get left behind. Here is a quick preview of what to expect on the upcoming version: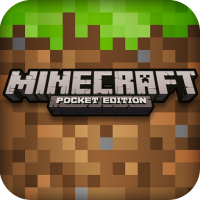 Source: Hydra-Media.CurseCDN.com
Infinite World
At last, an infinite world with infinite possibilities can now fit in your pocket! With this planned feature for Pocket Minecraft, your blocky world will no longer suffer the limit of having a small space! Imagine visiting your neighbor's kingdom 2000 blocks away from yours, right in the palm of your hands! Of course, this amazing feature will eat up your device's performance, but with a dedicated hosting company to host your Minecraft Pocket Edition server, you've got nothing to worry about.
Biomes
What's the use of an infinite generating world if you have no reason to explore it? Just like its PC brethren, MC:PE is planned to have biomes as well! And you know what this means? A lot of new stuffs from mobs, blocks, and items!
Caves
It's funny to think that a game called "Mine"-craft is played without caves… Will laugh no more, for cave generation will soon take Minecraft Pocket by storm. This planned feature will include lava-pools and more!
Mobs
Enderman and his friends are also coming out of your pocket, so you better watch out! Gather your friends and create a team to hunt down those pesky new mobs!
Of course Mojang won't let MC:PE be just a copy of Minecraft, as an In-game Skin Changer will also be heading its way exclusively for Minecraft Pocket. Change skin in a flash and compare it to your friends from half way around the world!
Get Your Own Server
Before the fun gets out of proportion, make sure you have a server to rendezvous with your friends. Make your own community and don't be envious with the others, host your own server, create your own story, and start your very own adventure with the friendly systems at EnviousHost.